Security Hologram
What is a hologram?
Hologram is an optically variable device changing the characteristics of incident light and diffraction (folding) of ray of lights so that it creates a picture. Such picture can have various dynamic or three-dimensional (3D) attributes, which with many other hidden features serve for security purposes.
Using the microscope, we can see that the hologram has a system of lines, which is not created by any ink layers, but with very soft scratches into the surface of hologram. The density of scratches is more than 1000 lines per one linear millimetre. Due to such density, the microstructure becomes optically active and can create a holographic image.
Because of this internal structure, no printing or copying equipment, which have much lower resolution, can create or copy such hologram.
Hologram – anti-counterfeit device
What makes Optaglio holograms so special? Take a closer look at e-beam originated security: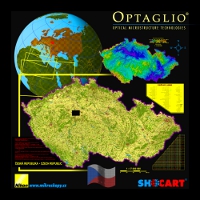 E-beam origination allows Optaglio to create holographic images in extremely high resolution. The Road map of the Czech Republic is an example of such an image. Zooming into the structure of the image allows to even read the street names in the map of Prague, which is on 2 square milimeters.

Prague in detail.
50x magnification.

Further detail in 100x magnification.


300x magnification allows to read the street names.

This equals to the resolution of 125 thousand DPI.
Counterfeit-proof
The hologram cannot be imitated or copied by any common polygraphic methods. The production of embossed holograms requires very sophisticated and expensive technology.
Transfer-proof
If you use holographic foil (self-destructive label or hotstamping foil), the hologram cannot be removed and used again, since it is partly destroyed by attempt to remove it.
Unique identification
Graphic motif of the hologram and its effects (colours, 3D, kinetic, flip-flop) are immediately recognisable to the general public. By implementation of more security components into the hologram we can reach a very high level of protection, where the authenticity of the hologram can be verified by using special tools – as microscope. The production of holograms is operated within a secure regime.