Holographic coins
Optaglio a solution for the transfer of holographic images onto hard metallic surfaces using the unique OVMetal™ technology. The hologram gives to the commemorative coin or medal a brand new dimension of line, colour and visual tactility to enhance the beauty of the precious metal.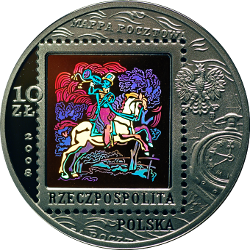 Laser originated hologram on a coin
"Posta" produced by Mennica Polska SA
There are two variants for application to minted coins:
Inlaying a metal shim into a recessed position within the minted coin.
Direct embossing of the image into the body of the coin.
The commemorative coins and medals with Optaglio's high fidelity imaging technology have become valuable collectables, and establish a new standard for collectors' coins.