Tax Stamps
Optaglio RPS™ (Revenue Protection System)
Illicit trade and smuggling present a significant and growing problem for authorities worldwide. Protecting excise revenue, primarily on tobacco and alcohol products, secures significant fiscal income and reduces consumption of untaxed, counterfeit or smuggled goods.
Optaglio's RPS™(Revenue Protection System) provides full service, cost effective solutions for governments worldwide. Subject to client specification, Optaglio designs and implements service solutions that optimise government income from excise programmes. 5–50% increase in collected revenue has been recorded.
Optaglio's cost efficient solutions combine full tax stamp design, multi level verification devices, and full track and trace functionality.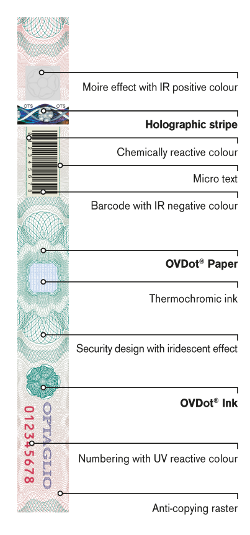 Optaglio Tax Stamp is an example of tailored security solution with a combination of holographic and non-holographic features.
Holographic stripe with demetallization and achromatic features.
The substrate on which the tax stamp is printed is the OVDot® Paper. The holographic microparticels can be verified on the back side of the tax stamp.
Extremely small OVDot® are printed on a specific area to enhance the security of the tax stamp.